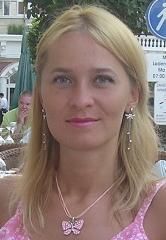 Dear friends,
Welcome to my personal website, where you can find all useful information about your upcoming trip to Ukraine! It will be my pleasure to be your city tour guide, interpreter and assistant!

My name is Irina. I live in
Kharkov
, Ukraine and spend some of my time in our capital Kiev and Odessa. I can accompany you, and arrange your trip and accommodations. I also lived both in the Ukraine and the United States, so I have a very good understanding of language and cultural differences between both countries. So if you are traveling to Ukraine, please don't hesitate to
contact me
.
---
- Fernand Saindon, Canada (
afjt@videotron.ca
)
My wife and I had the pleasure of having Irina as a guide and translator during a week-long stay in Odessa and Kiev. When I wrote to Irina who by the way lives in Kharkov, several hundred kilometers from Odessa or Kiev, I was pleasantly surprised to read that she was interested in my project. She came to us to Odessa where we spent 3 days. Then we flew together for 4 days in Kiev. Before arrival, she sent us a tour program for each place. We stayed in the same hotels to facilitate communication. Our stay was very pleasant both for the places chosen for the visits as for the restaurants.The freshness, the quality of the food and the variety is impressive. Ukraine is definitely a country to visit. The only handicap is to be accompanied, but with Irina, we are in good hands.